Name: Emily Goldm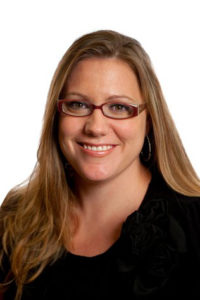 an
Chapter: Georgia
Current position: Manager of Port Relations at Georgia Ports Authority
How long in current position: Three years
First PR job: Writer and Content Manager for Savannah Christian Church
Where you attended college:  Armstrong State University
If you weren't doing PR, you'd be.., farming organically. I grew up surrounded by beef and dairy farms in the Midwest and believe it's important to not only know where my food comes from, but to participate in the process.
What is your passion?  I am passionate about telling compelling cross platform stories – stories that move people to action – through photography as well as text.
Proudest professional accomplishment: Currently I am most proud of 1,100 Strong, Who we are, What we do and How we make a difference. This project allowed me to use my journalism and photography background to put a human face on a growing industry. The project, used both in print and online at 1100strong.com, highlights the weighty accomplishments of a dozen of the more than 1,100 people who work for Georgia Ports Authority.
Why are you a PRSA member? I'm a member of PRSA to stay current on industry trends, network with others passionate about PR and for feedback on current projects.
Each week, the PRSA Southeast District highlights one of its 2,700 members. To join PRSA, visit prsa.org.