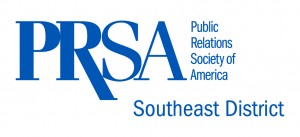 Our district includes 2,500+ members in 11 chapters in Alabama, Georgia, North Carolina, South Carolina and Tennessee. These active groups are diverse in geography but united in their commitment to furthering the public relations profession and professional.
Join PRSA in March and receive FREE Chapter membership!
New members*, using the code SPRING17, receive a free 1-yr Chapter membership when they join National as a Regular member ($255 annual dues + $65 initiation fee). National PRSA will reimburse Chapter for their dues up to $100 with the balance to be covered by the new member.
Refer to http://www.prsa.org/joinus/howtojoin for details.
*This is not applicable for Associate member levels ($200 or less annual dues) and current or renewing members.
Welcome!
The District supports individual chapters by sharing best practices via monthly conference calls, an annual Leadership Luncheon and an annual District Conference. We learn from each other, and in the Southeast District, we have fun doing it.
The District organization is a strong link in chapters' connection with the national organization and its wealth of resources, from research to training to the helpful collegiality of affinity groups.
Want to learn more? Get in touch with the local PRSA chapter in your area or email a member of the PRSA Southeast District Board. We'd like to hear from you.