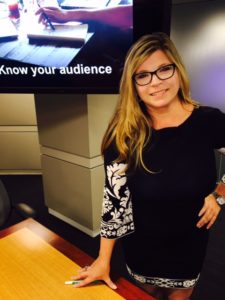 Name: Katherine Brennecke
Chapter: Georgia
Current position: Managing Director, Training and Content at The Mathews Group
How long in current position: one month, but I've been with this agency for a little more than three years.
First PR job: Communications Counselor at The Mathews Group
Where you attended college: University of South Carolina – Aiken for undergrad, American University for grad school
If you weren't doing PR, you'd be…… making television or advertising
Proudest professional accomplishment: finding a niche at The Mathews Group after many years in news. We're a virtual agency, so we are blazing a trail in a lot of ways, finding new ways to work together seamlessly, having the advantage of offering almost round-the-clock support for clients because of our geographic diversity, and allowing us to have the cream of the crop on our team because we aren't limited by location or other issues you may find in a traditional agency. I also love working with our clients in science, tech and engineering fields because it keeps us on the cutting edge of all things cool, and creating content that helps tell their stories is challenging and a tremendous amount of fun.
What is your passion? Helping people tell their story, whether that's through creating a video for them, strategizing and executing internal corporate communication plans, crafting content or seeing our training clients "get it" when we coach them through media appearances, giving a speech or presentation or handling Q&A in a town hall or panel discussion. It's all about telling their story and telling it well. That's what makes me proud to do what I do.
Why you are a PRSA member? I love the educational resources – webinars, publications, online resources. It's a wealth of information and I always find a great nugget to share with clients or colleagues.
Each week, the PRSA Southeast District highlights one of its 2,700 members. To join PRSA, visit prsa.org.